The Challenge!!
The Club hopes that everyone is keeping safe, fit and well during the Level 3 restrictions.
This challenge is designed to keep us active and work together as a TEAM to achieve our goal.
While we can't train indoors we can still practice our dribbling skills at home.
Goal
The Wild Atlantic Way is approx 1700 miles in distance, we are asking our club members to dribble a basketball at home to complete this distance virtually over the next 3 weeks!!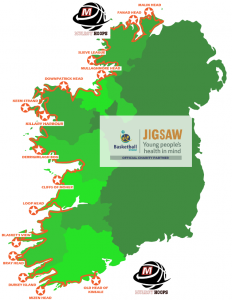 Rules
Social Distancing must be observed at all times during this challenge.
The club must complete the distance in 3 weeks!!
Dribble a ball for approx 10 minutes .
Track your distance on your phone.
Send a screenshot of distance to the group WhatsApp or through the form below.
If you would like to donate to this challenge click on the donate button below
Proceeds to Mulroy Hoops & Jigsaw